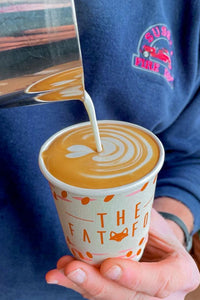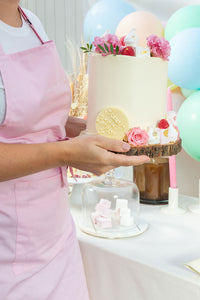 How the fox met the flour
This is the tale of how a shared college module, a heartbreaking decision and stumbling into a coffee shop turned out to be the perfect recipe for a bakery.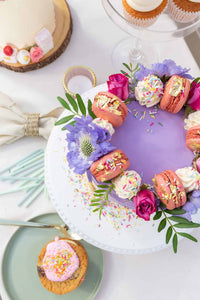 The Fox
Rob and Claire opened the doors of Fat Fox in September 2016 on a side street called Camden Row in Dublin 8. Many thought it was a bold move to open a coffee shop off the beaten track in one of the most competitive areas of the city. Being hidden away only made them shout a little louder! Taking to social media to have a laugh and share the daily ongoings of life in their little coffee shop. Combining this fun with obsessive attention to quality coffee and produce they started to gain recognition.
They opened The Fat Fox wanting to bring a tight-knit sense of community from their hometown of Greystones into a bigger city location. Using an inability to forget a face, witty humour and a growing social media presence they became an inviting destination to many. Building a new community of those who travelled to visit them and those who stumbled across the bustling shop in passing.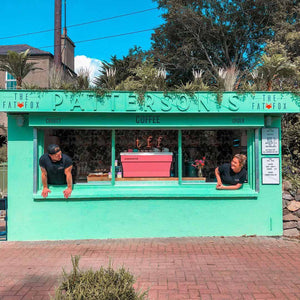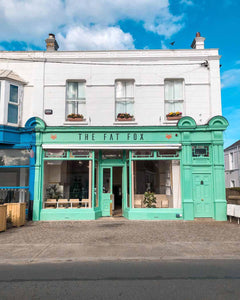 In 2019 they left the hustle and bustle of city life but their ethos has remained the same. The Fat Fox is now a speciality coffee drive-thru in Delgany and a Cafe in Greystones.

"We would not be where we are without our amazing customers and superstar team! We love to see their faces every day and help them celebrate the little and the big moments in life." - Claire & Rob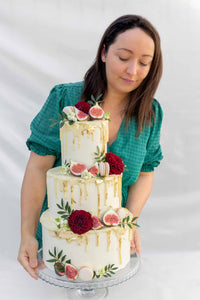 The Flour
Julie O'Flaherty graduated with a BA in Culinary Arts and worked as a pastry chef in restaurants across Dublin. Julie always had a love and passion for cake decorating and developed these skills while working at an award winning bakery in the city centre. 
In 2015 Julie decided to take a leap of faith and started her own full time cake business as "The Flour Artist". She acquired a small kitchen on a one acre organic vegetable farm in the heart of Glasnevin. Here, she created her unique style of celebration and wedding cakes, supplied cakes to independent coffee shops, and spent her weekends running market stalls across Dublin. Julie's primary focus has always been on having beautiful cakes that tasted every bit as good as they looked. In 2018 Julie made the heartbreaking decision to close her beloved bakery, and thought that was the end of her journey… until...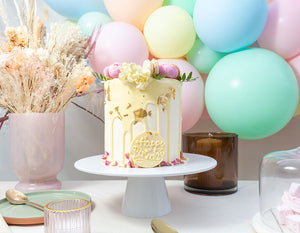 ...One afternoon, while in the process of closing down her own bakery, Julie stumbled into the original Fat Fox shop. She was greeted by a bubbly Claire. Having realised the two had years earlier shared some modules together in college they began to talk about life and business. Julie explained how she was stepping away from her bakery and didn't know what her next move would be. In a twist of fate Claire explained that The Fat Fox had a vacant baking position and how she would love for Julie to join the team while she figured out her next steps in life.
Quickly realising this strong duo were far better together than apart- the rest, as they say, was history! Julie's passion for baking and strong work ethic teamed with Claire's background in creating a hugely successful business and her attention to detail lead to the creation of what our Bakery is today. This is how The Fox and The Flour was born.
"Our ethos at The Fox & The Flour is to create unique and natural cakes to help you celebrate special moments in life. To make our rustic beauties we primarily use buttercream accompanied with fresh flowers, macaroons, gold leaf and fresh seasonal fruits in our designs. We source local, free range and seasonal ingredients which we believe makes all the difference in each baked good we serve- no matter how small or large!"