Wedding Cakes
Our ethos at The Fox & The Flour is to create unique and natural Wedding Cakes. We use primarily Swiss meringue buttercream, seasonal fresh flowers accompanied by seasonal fresh fruits, macaroons and gold leaf. We make it a priority to source local and free-range ingredients.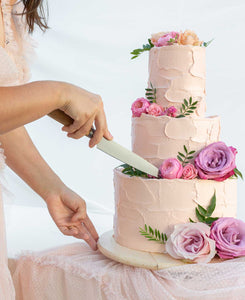 Ordering a Wedding Cake
Our process for ordering a wedding cakes starts with reserving your wedding date. After your date is reserved we will arrange a consultation that includes a complimentary cake tasting and the opportunity to discuss the final design of your cake with our Executive Head Baker, Julie O'Flaherty.
Reserve Wedding Date
Cake Flavours
1. Vanilla sponge cake filled with a vanilla bean buttercream.

2. Caramelised white chocolate cake filled with a white chocolate ganache and a sesame seed brittle crumb.

3. Orange & raspberry cake filled with an orange infused buttercream and a raspberry jam.

4. Gin & lime cake filled with a gin infused buttercream and a lime curd.

5. Lemon drizzle cake filled with a lemon zest buttercream and a lemon curd.

6. Decadent triple chocolate fudge cake filled with a dark chocolate ganache.

7. Carrot and coconut cake filled with a citrus infused cream cheese icing.

8. Coffee and walnut cake filled with an espresso infused buttercream.

9. Hazelnut and chocolate cake filled with a hazelnut praline buttercream.

10. Honey cake filled with a vanilla bean buttercream and crunchy honeycomb.
Price Guide
Starting prices below are exclusive of seasonal fresh flowers, gold leaf and macaroons. If you wish to add these it will come at an additional cost which can be discussed in your consultation.


Extra tall single tier
(30-40 servings) from €190 - 1 flavour choice.
Small 2 tier wedding cake
(50-60 servings) from €275 - 2 flavour choice.
Small three tier wedding cake
(70-80 servings) from €410 - 3 flavour choice.
Large three tier wedding cake
(120 servings) from €550 - 3 flavour choice.
4 tier wedding cake
(150 servings) from €650 - 4 flavour choices.
Additional dummy tier
(0 servings for visual effect only) €40.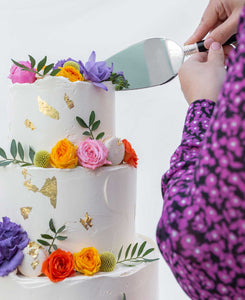 Delivery
Below are some of the delivery and set up charges for wedding venues we visit most frequently. Please be advised all cakes are delivered from our The Fox & The Flour Wedding Cake studio located in Cashel, Co. Tipperary. Prices below are reflective of this.

Kilshane House - €100, Cloughjordan House - €135
Cashel Palace - €80, Ashley Park House - €145
Marlfield House - €235, Castle Durrow - €130
The Step House Hotel - €170, Druids Glen - €180
Finnstown Country House - €180, Cliff at Lyons - €170
Kilkee Castle - €170, The Shelbourne Hotel - €150
Tinakilly Country House - €180, The Millhouse - €240
Ballymagarvery Village - €210, Clonabreany House - €170
Virginia Park Lodge - €280

We currently service all counties within Leinster plus Tipperary, Waterford and Cavan. We can make some exceptions on request. If your venue is not listed in these regions please contact us directly for a quote.