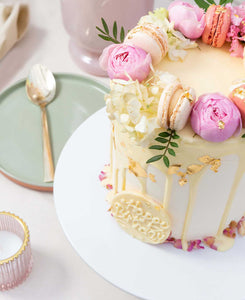 Ordering for a Celebration
Step 1: Select your cake
Browse our cake offerings and choose a cake which best suits your celebration. 

We have carefully created our menu for a cake to suit any occasion. Or design a bespoke 'Showstopper' for a fully customised cake.
Step 2: Select your collection location
Celebration cakes can be collected from The Fat Fox, 1 Trafalgar Road, Greystones, Co. Wicklow OR The Fox and The Flour Cakery, 5 Main Street, Cashel, Co. Tipperary. 
Step 3: Choose your cake size
Serving amounts are listed beside the size options. This makes it easy for you to see which size will suit best depending on the number of people attending.
Step 4: The Works
Yes: Adds the famous The Fox and The Flour signature finish to your cake. The Works entails adding fresh seasonal flowers, gold leaf and a message disk to our standard cake options.

No: Your cake will come standard as pictured in the photo without 'The Works'.

This is not applicable if you have selected 'The Showstopper'.
Step 6: Review your order information.
Confirm the information you have selected is correct. 
If you have opted for 'The Works', please input your message to be displayed on the message disk into the box provided.
Outline dietary requirements for the kitchen team. Please note our kitchens contain all allergens. While our team will take the necessary steps to ensure your cake does not directly contain allergens stipulated in your order information, we cannot ensure that your cake will be allergen free due to cross contamination.
Step 7:
Tick the box to let us know that you have read our order policies carefully and agree to comply with our terms and conditions.
Step 8:
Browse our sweet treat offering and add any celebration extras to your cart.
Final Step:
Check out. Make sure your order information is correct. Fill out your billing information and proceed to payment.
And that's it, you're ready to celebrate in style.