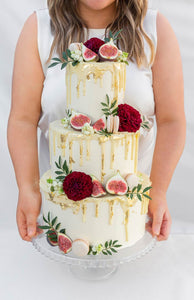 Our Wedding Cake Process
Step 1: Our Wedding Cake Process
Open the menu bar on the home page and select 'Shop Weddings'. We strongly advise reading our ordering process to familiarise yourself with how it all works.
Step 2: Reserve Your Wedding Date
Once you have opened the menu bar and read Our Process you can reserve your wedding date. Make sure to read the information provided regarding your booking deposit and what it entails. Reserving your date ensures that The Fox and The Flour will make your wedding cake. We strongly advise reserving your date as far in advance as you can as our calendar is filling up quickly. If your date is blank, your wedding date is no longer available as it has been reserved by another couple.
Step 3: Fill out Mini Form
Please fill out the small questionnaire to help us better understand your wedding concept. We will discuss these points in greater detail at your consultation. This form gives us a strong starting point to help us bring the relevant information and/or suggestions to your consultation.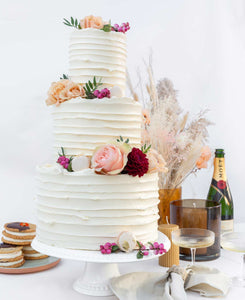 Step 4: Order Policies
Tick the box to let us know that you have read our order policies carefully and agree to comply with our terms and conditions.
Step 5: Check out
Make sure your order information is correct. Fill out your billing information and proceed to payment.
Step 6: Consultation
We will be in touch within three to five working days about booking you in for a consultation. We advise having your consultation 3-4 months prior to the wedding. Your consultation will be with our Executive Head Baker Julie O'Flaherty and will include a complimentary cake tasting. You will have the option to choose which location best suits you. Please see both our consultation locations below:
The Fat Fox, 1 Trafalgar Road, Greystones, Co. Wicklow.

The Fox & The Flour Cakery, 5 Main Street, Cashel, Co. Tipperary.

We encourage you to bring any inspiration images and references for our Executive Head Beaker, Julie O'Flaherty as a guiding point to your wedding style. This may include things such as a pinterest board, your wedding invitations, colour schemes, photos of your bouquet etc.The Consultation will last between 45 minutes up to one hour.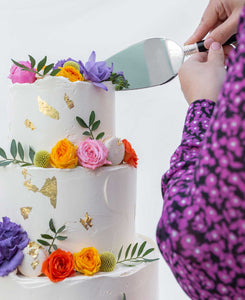 Wedding Cakes Consultation
Your consultation will include a complimentary cake tasting and the opportunity to finalise your cake design with our Executive Head Baker, Julie O'Flaherty. Once your wedding date is reserved, we will be in touch within three to five working days about your consultation. 
Reserve Wedding Date