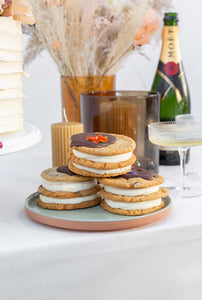 Wedding Sweet Treat
We offer a range of sweets treats as part of our wedding cake consultation service. They are a lovely accompaniment to the cake of your dreams.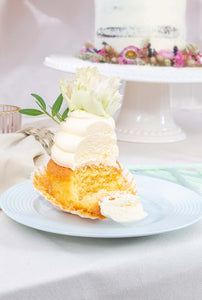 Cupcakes
Our cupcakes are designed with our signature The Fox & The Flour finish including fresh seasonal flowers, gold leaf and macaroons. We have a selection of wonderful flavors, including Chocolate & Praline, Sprinkle, Torched Lemon Merengue, Carrot & Coconut, S'mores, Vegan Chocolate, Vanilla Bean or Raspberry & Orange. €3.00 each.
Cookie Stacks
Our famous cookie stacks were created by our very own Julie in 2016. Since then, they have been a popular staple on our counters. So much so, they have made their way into our wedding offerings. Our cookie stacks are made up of three layers of milk chocolate chip cookies filled with our signature Swiss merengue buttercream. Choose between Irish Cream or Sprinkle. €5.50 each.
Marshmallows
Our marshmallows are handmade with love by our talented baking team. We currently offer vanilla bean or marbled raspberry marshmallows.  €1.50 each
Macaroons
Hand made by our team of talented bakers. We offer a wide variety of flavours and colours. €2 each.
Cake pops
These can be designed to your specific taste. Cake Pops are available in multiple flavours and colours. €3.50 each.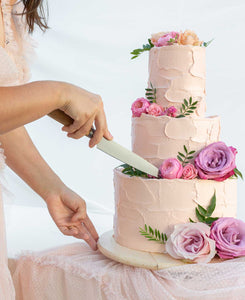 Wedding Cakes Consultation
Your consultation will include a complimentary cake tasting and the opportunity to finalise your cake design and sweet treat selection with our Executive Head Baker, Julie O'Flaherty. Once your wedding date is reserved, we will be in touch within three to five working days about your consultation. 
RESERVE WEDDING DATE